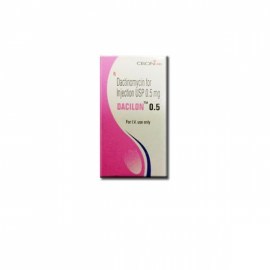 Dacilon 0.5mg Dactinomycin Injection
Product Code : 128
Product Description
DACTINOMYCIN COMMON SIDE EFFECTS :
nausea, vomiting, stomach pain, loss of appetite; tired feeling, muscle pain; rectal pain or bleeding; numbness or tingly feeling around your mouth, fast or slow heart rate, muscle tightness or contraction, overactive reflexes; hair loss; dry or cracked skin, chapped lips; or acne, mild skin rash.
Call your doctor at once if you have:
pain, swelling, burning, irritation, or skin changes where the injection was given; fever, chills, body aches, diarrhea, flu symptoms, sores in your mouth and throat;

swelling or tenderness in your upper stomach, weight gain, dark urine, jaundice (yellowing of the skin or eyes);

feeling short of breath, urinating less than usual or not at all; chest pain, dry cough, wheezing; pale skin, feeling light-headed or short of breath, rapid heart rate, trouble concentrating;

easy bruising, u
WHAT IS DACILON ?
Dacilon is an anti-cancer ("antineoplastic" or "cytotoxic") chemotherapy drug. This medication is classified as an "antitumor antibiotic." Cancerous tumors are characterized by cell division, which is no longer controlled as it is in normal tissue. "Normal" cells stop dividing when they come into contact with like cells, a mechanism known as contact inhibition. Cancerous cells lose this ability.