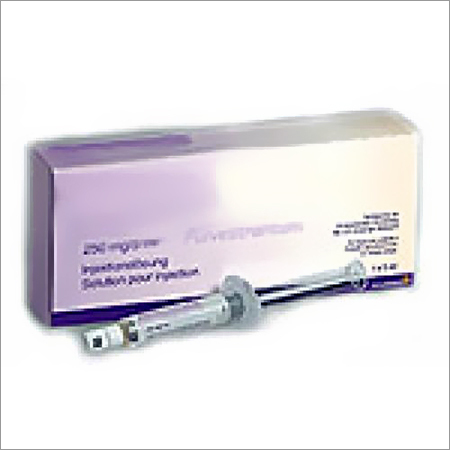 Fulvestrant Injection
Product Code : 55
Product Description
Fulvestrant Injection is used to treat hormone receptor positive breast cancer (breast cancer that depends on hormones such as estrogen to grow) in women who have experienced menopause (change of life; end of monthly menstrual periods) and whose breast cancer has worsened after they were treated with antiestrogen medications such as tamoxifen (Nolvadex). Fulvestrant is in a class of medications called estrogen receptor antagonists. It works by blocking the action of estrogen on cancer cells. This can slow or stop the growth of some breast tumors that need estrogen to grow.
Fulvestrant comes as a solution (liquid) to be injected into a muscle in the buttocks. Fulvestrant is administered by a doctor or nurse in a medical office. It is usually given once a month. You may receive your entire dose of medication as a single injection, or the dose may be divided into two injections that are given one after another.
A new drug called fulvestrant (Faslodex®) was as effective as another drug, anastrozole (Arimidex ®), in postmenopausal women with advanced, previously treated breast cancer, according to two studies published in the August 15, 2002, issue of the Journal of Clinical Oncology.
The women in the studies had been previously treated with the drug tamoxifen, only to have their breast cancer return. Anastrozole belongs to a class of drugs called aromatase inhibitors (AIs). Drugs from this class are the current standard therapy for breast cancer that has recurred or progressed after treatment with tamoxifen.