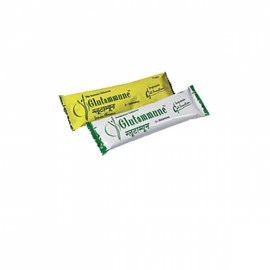 Glutammune
Product Code : 78
Product Description
WHAT IS GLUTAMMUNE ?
Glutammune Sachet contains L-Glutamate as an active ingredient. Glutammune Sachet Works by helping in gut functioning, the immune system and other essential processes in the body.
MEDICINE USES:
Claris L-Glutamate is used for the treatment, prevention, & improvement of the following diseases, conditions and symptoms:
Diarrhea
Pain inside the mouth
Swelling inside the mouth
People undergoing radio chemotherapy for esophagus cancer
Bone marrow transplant
GLUTAMINE COMMON SIDE EFFECTS:
The following is a list of possible side effects that may occur from all constituting ingredients of Glutammune Sachet. This is not a comprehensive list. These side effects are possible, but do not always occur. Some of the side effects may be rare but serious. Consult your doctor if you observe any of the following side effects, especially if they do not go away.
Fast heartbeat
Fainting
Cough
Lower back or side pain
Hives
SAFETY INFORMATION (Precautions) for GLUTAMMUNE GLUTAMINE SACHET :
Before using this drug, inform your doctor about your current list of medications, over the counter products (e.g. vitamins, herbal supplements, etc.), allergies, pre-existing diseases, and current health conditions (e.g. pregnancy, upcoming surgery, etc.). Some health conditions may make you more susceptible to the side effects of the drug. Take as directed by your doctor or follow the direction printed on t