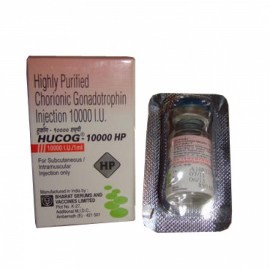 Hucog 10000 IU Injection
Product Code : 185
Product Description
WHAT IS THE IMPORTANT SAFETY INFORMATION OF HUCOG 10,000 HP INJECTION ?
Before receiving HCG tell your doctor if you are allergic to any drugs or if you have:
a thyroid or adrenal gland disorder;
an ovarian cyst;
premature puberty;
cancer or a tumor of the breast, ovary, uterus, prostate, hypothalamus, or pituitary gland;
undiagnosed uterine bleeding;
heart disease;
kidney disease
epilepsy
migraines; or
asthma
WHAT DO YOU MEAN BY HUCOG 10,000 HP INJECTION ?
Human Chorionic Gonadotropin (HCG) is a hormone that supports the normal development of an egg in a woman's ovary, and stimulates the release of the egg during ovulation.
WHAT IS THE USE OF HUCOG 10,000 HP INJECTION ?
HCG is used to cause ovulation and to treat infertility in women, and to increase sperm count in men. HCG is also used in young boys when their testicles have not dropped down into the scrotum normally. This can be caused by a pituitary gland disorder.