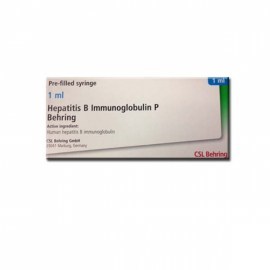 Immunoglobulin P
Product Code : 14
Product Description
IMMUNOGLOBULIN P COMMON SIDE EFFECTS :
Headache; loss of appetite; nausea; pain, redness, or swelling at the injection site; slight fever.
Seek medical attention right away if any of these SEVERE side effects occur: Severe allergic reactions (rash; hives; itching; difficulty breathing; tightness in the chest; swelling of the mouth, face, lips, or tongue).
This is not a complete list of all side effects that may occur. If you have questions about side effects, contact your health care provider.
WHAT IS HEPATITIS B IMMUNOGLOBULIN P ?
Hepatitis B Immunoglobulin P is an immunizing agent. It works by temporarily increasing the antibody concentration, which helps protect against Hepatitis B infection.
MEDICINE USES :
Hepatitis B Immunoglobulin P is used for preventing Hepatitis B infection after exposure to the virus.
SAFETY INFORMATION (Precautions) for HEPATITIS B IMMUNOGLOBULIN P :
Hepatitis b immune globulin is made from human plasma and carries a slight risk of containing viruses that may cause disease. Ask your doctor any questions that you may have about the risks and benefits of using hepatitis b immune globulin.

To prevent hepatitis B infection, more than 1 dose of hepatitis b immune globulin may be required. Be sure you receive all of the recommended injections.

Check with your doctor before having vaccinations for mumps, rubella, or hepatitis for 3 months after you have received hepatitis b immune globulin.

Tell your doctor if you have ever been vaccinated for hepatitis.

Hepatitis b immune globulin is not recommended for use in CHILDREN. Safety