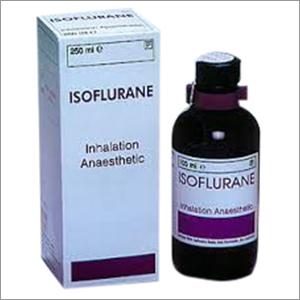 Isoflurane
Product Code : 69
Product Description
We are an eminent Exporter, Wholesaler, Distributor and Supplier of Isoflurane. This is a halogenated volatile anesthetic, that maintains and induces general anesthesia by depression of the central nervous system and resultant loss of consciousness.
Isoflurane is given in the form of a gas, this is breathe in through a mask.
It induces a deep and pain free sleep during surgical procedures.
This also helps to block the sensations of pain and discomfort, which may be experienced during surgical procedures.
Note:
This is may be used in combination with other medicines during general anesthesia.
It is always given to you by a healthcare professional. The qualified person responsible for giving you your medicine should make sure that you get the right dose.
Manufacturer: Piramal Health Care (India).