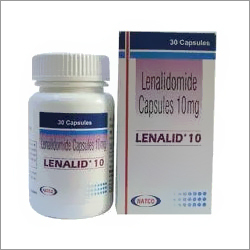 Lenalid Capsule
Product Code : 75
Product Description
Lenalid Capsule is used to treat a certain type of myelodysplastic syndrome (a group of conditions in which the bone marrow produces blood cells that are misshapen and does not produce enough healthy blood cells). Lenalidomide is also used along with dexamethasone to treat people with multiple myeloma (a type of cancer of the bone marrow) who have already been treated with at least one other medication. Lenalidomide is in a class of medications called immunomodulatory agents. It works by helping the bone marrow to produce normal blood cells and by killing abnormal cells in the bone marrow.
How should this medicine be used:
Lenalidomide comes as a capsule to take by mouth. When lenalidomide is used to treat myelodysplastic syndrome, it is usually taken with water once daily. When lenalidomide is used to treat multiple myeloma, it is usually taken with water once daily for 21 days and then is not taken for 7 days. This 28-day pattern may be repeated as recommended by your doctor. Take lenalidomide at around the same time every day. Follow the directions on your prescription label carefully, and ask your doctor or pharmacist to explain any part you do not understand. Take lenalidomide exactly as directed. Do not take more or less of it or take it more often than prescribed by your doctor.
Swallow the capsules whole; do not break, chew, or open them.