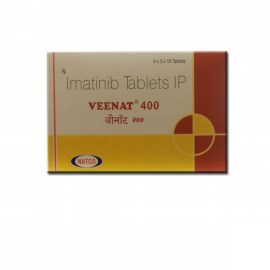 Veenat Imatinib 400 mg Tablets
Product Code : 119
Product Description
SIDE-EFFECTS OF VEENAT 400MG TABLETS :
Upset stomach, nausea/vomiting, diarrhea, headache, muscle/joint pain, muscle cramps, dizziness, blurred vision, or drowsiness may occur.
Tell your doctor right away if you have any serious side effects, including: easy bruising/bleeding, unusual tiredness, sudden/unexplained weight gain, swelling hands/ankles/feet/abdomen, swelling around the eyes, shortness of breath, fast heartbeat, black/bloody stools.
This is not a complete list of all side effects that may occur. If you have questions about side effects, contact your health care provider. Call your doctor for medical advice about side effects.
WHAT IS VEENAT 400MG TABLETS ?
Imatinib is a chemotherapy drug that works by slowing or stopping the growth of cancer cells.
WHAT IS THE USE OF VEENAT 400MG TABLETS ?
Veenat is used for treating certain types of leukemia, certain bone marrow diseases, a certain type of skin cancer, and certain intestinal tumors (eg, gastrointestinal stromal tumors [GIST]). It may also be used to prevent cancer from growing in patients after surgical removal of GIST.