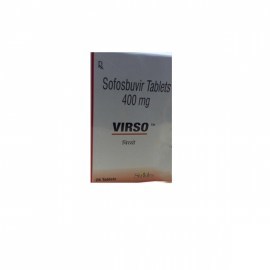 Virso Sofosbuvir 400 mg Tablets
Product Code : 39
Product Description
What Is Virso 400 Mg Tablets ?
Virso Is An Antiviral Medication That Prevents Hepatitis C Virus (hcv) From Multiplying In Your Body. This Drug Is A Prescription Drug. It's Available As An Oral Tablet.

What Are The Uses Of Virso 400 Mg Tablets ?
Sofosbuvir Is Used With Other Antiviral Medications (such As Ribavirin, Peginterferon, Daclatasvir) To Treat Chronic (long-lasting) Hepatitis C, A Viral Infection Of The Liver. It Works By Reducing The Amount Of Hepatitis C Virus In Your Body, Which May Help Your Liver Recover.
What Is The Important Safety Information Of Virso 400 Mg Tablets ?
Before Using This Medication, Tell Your Doctor Or Pharmacist Your Medical History.
Before Having Surgery, Tell Your Doctor Or Dentist About All The Products You Use.
Sofosbuvir Is Used In Combination With Ribavirin. Ribavirin Can Cause Birth Defects Or Death In An Unborn Baby.
It Is Unknown If This Medication Passes Into Breast Milk. Consult Your Doctor Before Breast-feeding.