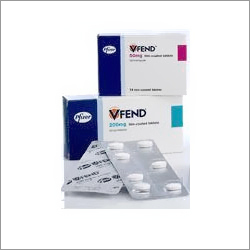 Voriconazole 400 Mg
Product Code : 126
Product Description
Voriconazole 400 Mg is used to treat serious fungal infections such as invasive aspergillosis (a fungal infection that begins in the lungs and spreads through the bloodstream to other organs) and esophageal Canadianism (infection by a yeast-like fungus that may cause white patching in the mouth and throat). Voriconazole is in a class of antifungal medications called triazoles. It works by slowing the growth of the fungi that cause infection.
Voriconazole comes as a tablet and a suspension (liquid) to take by mouth. It is usually taken every 12 hours on an empty stomach, at least 1 hour before or 1 hour after a meal. To help you remember to take voriconazole, take it at around the same times every day. Follow the directions on your prescription label carefully, and ask your doctor or pharmacist to explain any part you do not understand. Take voriconazole exactly as directed. Do not take more or less of it or take it more often than prescribed by your doctor.
If you are taking voriconazole suspension, shake the closed bottle for about 10 seconds before each use to mix the medication evenly. Do not mix the suspension with any other medications, water, or any other liquid. Always use the measuring device that comes with your medication. You may not get the right amount of medication if you use a household spoon to measure your dose.
At the beginning of your treatment, you may receive voriconazole by intravenous (into a vein) injection. When you begin taking voriconazole by mouth, your doctor may start you on a low dose and increase your dose if your condition does not improve. Your doctor also may decrease your dose if you experience side effects from voriconazole.