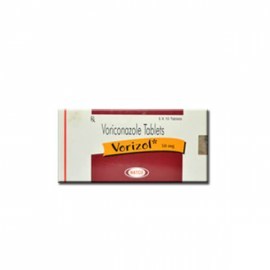 Vorizol Voriconazole 50 mg Tablets
Product Code : 16
Product Description
What Are The Uses Of Voriconazol 50 Mg Tablets ?

Vorizol Is Used To Treat The Following :candidiasis Yeast Infection That Spreads Throughout Body, Presence Of Candida Species Yeast In The Blood, Fungal Infection Of The Esophagus, Aspergillosis, Aggressive Fungal Infection - Invasive Aspergillosis, Infection Caused By The Fungus Scedosporium Apiospermum, Infection Caused By The Fusarium Species Fungus, Infection Caused By The Fungus Fusarium Solani

What Are The Possible Side-effects Of Vorizol Voriconazol 50 Mg Tablets ?

Nausea/vomiting, Diarrhea, And Headache May Occur. If Any Of These Effects Persist Or Worsen, Notify Your Doctor Promptly.

Tell Your Doctor Right Away If Any Of These Unlikely But Serious Side Effects Occur : Vision Changes (e.g., Blurred Vision, Color Vision Changes), Sensitivity Of Eyes To Light (photophobia), Bone/muscle/joint Pain, Weakness, Mental/mood Changes, Muscle Stiffness/spasm, Restlessness, Swelling Of The Ankles/feet, Tiredness, Easy Bleeding/bruising, Signs Of Infection (e.g., Fever, Persistent Sore Throat).

This Is Not A Complete List Of All Side Effects That May Occur. If You Have Questions About Side Effects, Contact Your Health Care Provider. Call Your Doctor For Medical Advice About Side Effects.